Lab Facilities
Materials Testing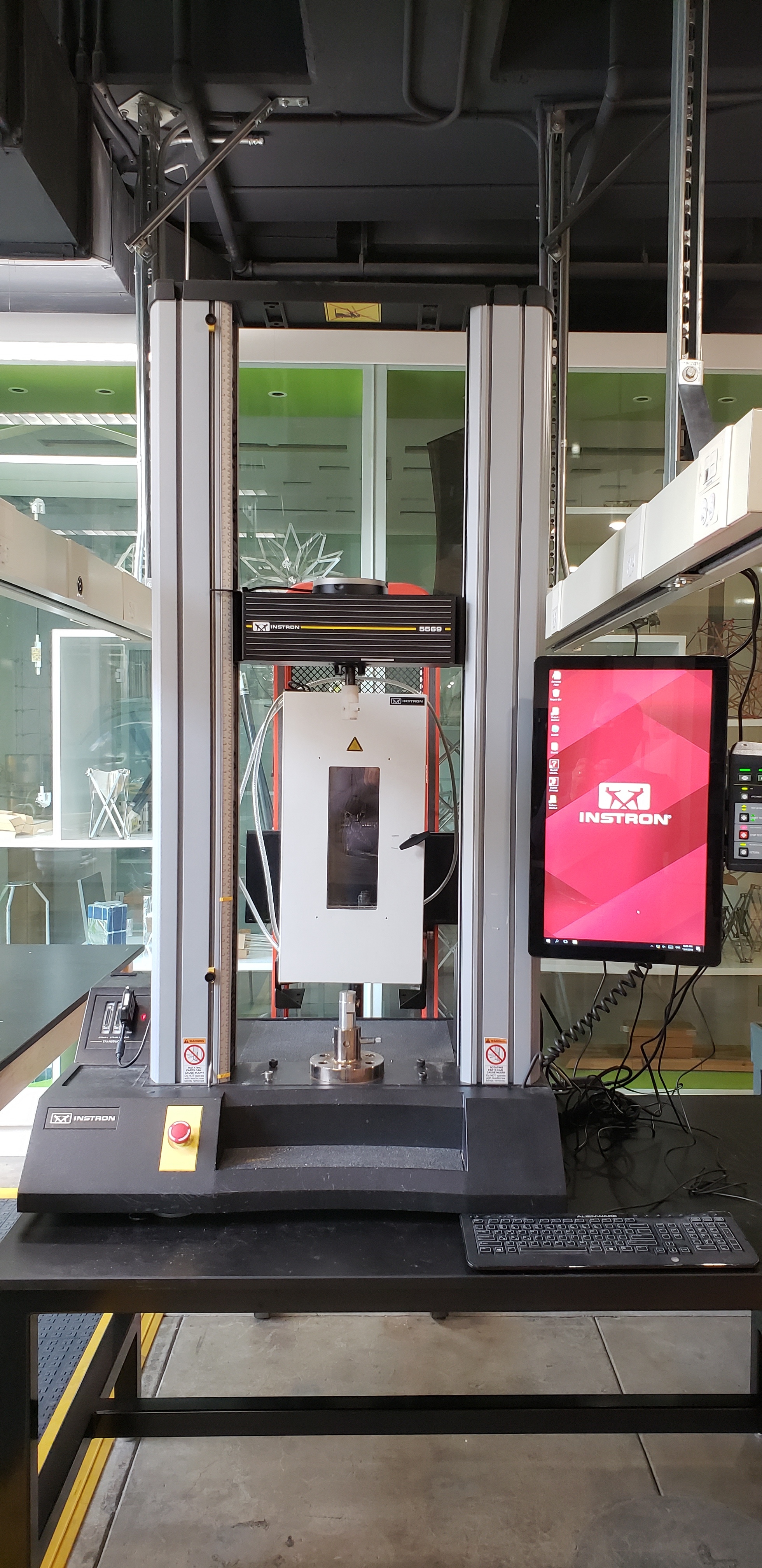 Instron® electromechanical universal testing machine: Model No.
5569Q9398 with load capacity up to 50kN with maximum loading speed of
500 mm/min and minimum loading speed of 0.005 mm/min.

Number of static load cells with load capacities (compression and tensile):
10N; 500N; 1kN; 50kN
Grips for axial compression and tensile testing
Fixtures for custom loading testing by Wyoming Test Fixtures Inc.:
WTF-EL-194 compression test fixture
CU-FL-96 three and four-point flexure test fixtures
CU-3R-6 three-rail shear test fixture

Two laser Extensometers (non contact) by Electronic Instrument
Research Model No. LE-01 and Model No. LE-05 configured to measure
local axial and transverse displacements with measurement range of
8-80 mm for LE-01 and 8-127 mm for LE-05.
Connections to Instron loading frame through RS232 I/O port.

The Instron environmental chamber fits on the Instron loading frame to
keep the test specimen in controlled thermal environment during
testing. Operating temperature range: +350 deg C and -70 deg. C with
LN2. Temperature Stability: 2 deg. C.
Fabrication of Structural Prototypes
Laser material processing from cutting to engraving of various materials (carbon fiber, metal, plastic ...). This model is equipped with three lasers of different wavelengths and can cut through carbon fiber material. It also has a computer controlled rotating jig option to cut/engrave 3D tubular parts.
Composite Curing Autoclave EC3X6 (3 feet in diameter and 6 feet long curing chamber) by ASC Autoclaves. The ASC composite autoclave utilizes a control system to control the temperature, pressure, vacuum, and cure times based on cure recipes and reading from the sensors that are attached directly to the composite parts and tools during a cure cycle.
Full-field vibration measurement with non-contact laser. Vibrational velocities of 0.01 µm/s to 30 m/s.
Portable coordinate measuring machine with accuracy of 30 μm (contact probe) and 25 μm (non-contact laser probe) over a range of 1.5 m.
-Two laser light sources and a precise flat mirror simulating a star at infinity
-Optomechanics for precise alignment
-A laser light source and a parabolic mirror to simulate a star at infinity
-A Phasics interferometer to measure the wavefront error of the deformable mirror (accuracy : 20 nm rms)
-Electro-optical characterization of CMOS/CCD sensors (measure of bias, dark, flat, noise and gain).
-One thermal vacuum chamber (vacuum up to 10-5 torr,temperature range
-25°C/+60°C) with an optical quality glass window and several ports to test our equipment, electronics and measure temperature
-One optical testbed to measure the wavefront error of mirrors and deformable mirrors being tested in the thermal vacuum chamber